This post brought to you by Atlantic Luggage. All opinions are 100% mine.
My Atlantic Luggage arrived just in time and I'm as giddy as can be! I'm also excited that I get to giveaway a suitcase to one of you!
I'm pretty sure I haven't thought about anything but this vacation for at least two months. Our bags are packed, our house sitters are comfy, and our watch dog is hungry! Can you tell I've thought everything through? If you are planning a fun vacation, make sure and check out our travel section for some genius packing tips, as well as everything you need to know about traveling with kids. Also, stay tuned…I'm providing some awesome tips for planning a surprise getaway at the end of this post!
One of my favorite packing tips (mentioned in our packing tips post), is to pack each of my children's outfits in separate zipper bags. This helps me to make sure that I've packed coordinating outfits for each day, and it also enables my kids to be more independent and dress themselves each morning. They just have to grab their bag for that day! The only thing I don't pack in zipper bags is pajamas and jackets (see below).
I was really impressed with my Atlantic Luggage piece and how much stuff it fit! I packed 8 days worth of stuff for 2 kids and there is still plenty of room for more, which is surprising because the suitcase doesn't look that big! You can see by that the buckled up straps are loose–there's still plenty of room for more! Here's what it looks like zipped up:
I also like having a hard shell case because I don't have to worry about what is going to get smashed during our flight. We usually take duffel bags, which has left some things broken in the past. I also like that I can lock it since it has the integrated TSA lock!
It can be tricky to find a good piece of luggage that isn't super expensive. This suitcase seems to be both reliable and affordable! So…WHO WANTS ONE FOR FREE?? I'm going to make this super easy on you! All you have to do to enter the giveaway is comment below and tell me where this suitcase will travel to first if you win it!
Planning a Surprise Getaway
Are you and you husband due for a getaway–just the two of you? I want to offer some good tips on planning (and paying for) that special trip….all without him finding out! One of my favorite stories my parents have told me is the time that my mom planned a secret vacation to Disneyland and my dad had no clue! She had everything arranged ahead of time (including communicating with his boss and getting time off work). She packed the bags in the back of the car, pulled up to get him for "lunch" and then after about 20 minutes of driving he started wondering what was going on! They both had an amazing time!
One problem I have had in planning a getaway for my husband and I is that my husband is in charge of our budget. He would totally see the money coming out of our account! So here are a few ways I have found to creatively save up without him knowing (these ways would also work for a family vacation if you wanted to surprise the kids).
Grocery Money. My husband sees the grocery transactions go through our account, but he never cares to see the receipts! Make a habit of getting cash back every time you go grocery shopping. I know it can be hard to take any money out of the grocery budget, but even if you did $10 or $20 each time, it adds up over the period of a year or so!
Sell Stuff. I have had great success selling personal items through Craigslist or other online classifieds. Go through your house and find things you don't need. I once bought a $700 couch from money I received from selling a bunch of random items I knew we didn't need anymore! Plus, there are many bloggers that have written some great articles on how to sell your stuff successfully.
Ebates and other Cash Back sites. I LOVE Ebates. I got over $300 from them last year. Anytime you are ever making a purchase online, first find your merchant and click through Ebates. Not only will you get some great coupon codes, but you get cash back for buying stuff you are already buying. Especially if you are making a big purchase (furniture, hotels, etc), make sure you go through Ebates! I booked my most recent hotel through Orbitz (going through Ebates), and i got Orbitz bucks AND cash back from Ebates. This is an awesome way to get some extra cash!
Grocery Apps. This is another way to save some extra cash. There are quite a few out there, but one of my favorites is Ibotta because they give you money back for things like milk and toilet paper (stuff I actually buy). I think I only made $100 in the last 6 months from this one, so it's not going to bring in a ton, but for not having to clip coupons, I'm a fan!
Save your change anytime you use cash for anything. If you never spent your quarters, nickels, dimes and pennies, it could really add up over a year!
Win a Vacation! There are so many giveaways going on these days, you might as well try your luck! win a family trip for 4 (from Atlantic Luggage) and you can bypass all the other tips mentioned above!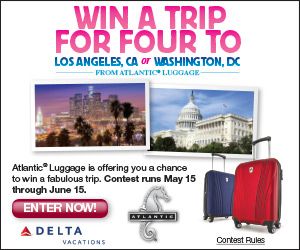 Do you have any great tips for planning and paying for a surprise getaway?