This is a Sponsored post written by me on behalf of White Cloud for SocialSpark. All opinions are 100% mine.
Good news people! 1.) White Cloud has a high-value coupon* available right now for their laundry detergent, and 2.) I'm giving you some laundry tips today that will hopefully make laundry day much easier!
First, the detergent. Typically when I hear "White Cloud" I think toilet paper. Who knew they also make laundry detergent?? I haven't had enough experience yet with my bottle to give a personal testimonial (got it this last week), but in less than six months of launching, a leading consumer magazine has already named White Cloud Laundry Detergent as #1 in value and #6 in cleaning.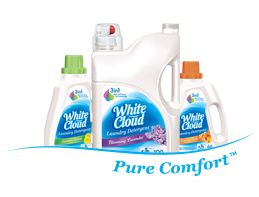 Their positioning for this detergent is "Dare to Compare," with their 3-in-1 Micro Clean Technology.
White Cloud Laundry Detergent can be found at Walmart, and the coupon can be found when you Like White Cloud on Facebook!
Dare to Compare! I'd love to hear what you all think.
*Disclaimer: Limit one coupon per purchase on product specified. No cash back if coupon value is higher than purchase price. Void if reproduced, transferred, used to purchase products for resale or where prohibited/regulated by law. Not valid on trial sizes. Consumer pays sales tax. Redeemable at participating retail stores. Valid only in the U.S.
Follow White Cloud on Twitter, Follow White Cloud on Pinterest, or use thier Store Locator to find White Cloud laundry detergent closest to you!
My Best Laundry Tips
Keep track of the socks. Anyone else feel like the washing machine somehow sucks your socks into an eternal black hole? Keep them all in one place by washing them with a lingerie bag.
Write yourself messages. No way can I ever remember that I put a pair of pants in the washer that shouldn't go in the dryer. Almost every time I goof up. Now I use a dry erase marker to write myself messages.
Sort Your Clothes as You Take them off. Save time on laundry day by sorting your clothes as you take them off. You can get cheap laundry sacks from the Dollar Tree and keep them in your laundry basket. When you take your clothes off, just throw them into the appropriate bag.
Forgot that you put clothes in the wash Yesterday? I probably shouldn't be admitting this, but sometimes I put clothes in the washer and then the next day I'm like "Oh no! I forgot!" Although this isn't the recommended way to live life, sometimes it happens. And when it does, I use an odor eliminator with active live enzymes. It does an amazing job at eliminating any possible odors.
Have a basket for "special care" items. Sometimes I notice as I go to put something in the wash that it needs a stich or is missing a button. Other times I have an item that is hand wash only. If I don't have time to take care of it right then, I put it in my "special care" basket so that it doesn't get forgotten.
What are some of your best laundry tips?