Christmas is just around the corner! It's extra exciting for me this year because we will have a new little addition in our family. Because of that, I am trying to have everything wrapped and ready by Thanksgiving just in case he comes early (don't judge). 🙂
I recently wrote a post about some creative ways to Exchange Christmas Stockings with your spouse. I'm a sucker for Christmas traditions, and I think it's especially important to to have traditions as a couple–just for the two of you.
Christmas has a habit of of being mostly about the kids, and for good reason. There's nothing better than watching your kids squeal in delight over Christmas magic! However, there's another kind of magic that involves remembering to love and honor your marital commitments, even at Christmastime. And it's important to remember your spouse at Christmastime and put thought and effort into their gifts as well.
My sister-in-law read through my ideas for exchanging Christmas Stockings and was so excited. "This is brilliant," she said, "because my husband and I stopped getting each other gifts years ago. Not because we didn't care about each other, but because we wanted to put what we had towards our kids gifts. This is a fun way to remember each other without spending a lot of money."
One of my favorites on the list of ideas (and the one we will be doing this year) involves date nights. Here's how it works: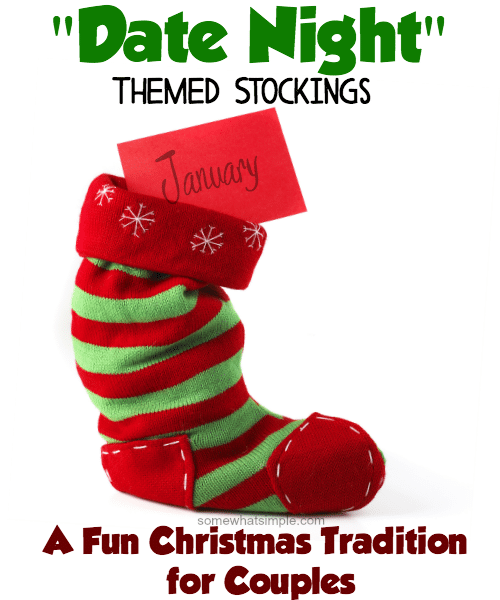 This is a great stocking tradition for couples, because you can be as thrifty or as extravagant as you like. This is how we plan to do it:
I am in charge of my husband's stocking, and he's in charge of mine. Everything we buy for the stocking is something that can be used on date nights. This could include gift cards, tickets, vouchers, etc. It could also include favorite snacks and treats or some fun massage oils for a date night at home 🙂 Just be creative and have fun with it! Some good places to find stuff:
Groupon. Christmas is a great time to look on Groupon for stocking stuffer ideas. Not only for fun date nights, but also check out Groupon Goods.
Living Social Another great place to check for fun date nights to include in stockings, plus if you have never purchased from them before, you get your first $10 free through this link.
Zulily. Seriously, I stalk this webpage everyday! They always have new stuff and tons of great ideas for stocking stuffers. This is the only deal site I subscribe to because it saves me so much money and it features a crazy amount of stuff. If you don't have an account, check out the deals here. If you already have an account, you can check out the men's section here.
***For ours, we will theme our stockings around dates we think the OTHER PERSON would enjoy, but this can be swapped (dates you would like your spouse to take you on) if you both feel inadequate in coming up with good ideas. It's way more fun for us if we do it for each other (plus it feels more like Christmas).
What would you include in a date night stocking?
Make sure and check out my other ideas for enjoying Christmas with a Spouse!
This post originally published on Somewhat Simple