>>>>SPECIAL DISNEY BLACK FRIDAY DEAL ALERT<<<<
If you're thinking about giving the gift of travel this year, make it a much cheaper with a special deal I've got for you. While supplies last, you can now book a trip for your entire family, and every single person will pay kids' prices for their tickets. Sign me up right now please! Check out the details here. I suggest booking today before all discounted tickets are gone!
---
Looking for what things you should buy before your trip to Disneyland? You've come to the right place!
This post is part of a 10-part Disney Travel Series. If you are planning a trip this summer, you may want to hop around our Travel section for some great tips.
As we are preparing for our trip, I have been reading forum upon forum to make sure I am not forgetting anything important! If you are on a budget like I am, every penny counts. And it can be really, really easy to spend more than you planned (especially at Disneyland). Here are a few things that are helpful to buy before a trip to Disneyland. Chances are not every single item will fit your individual situation, but I found many of them to be helpful!
15 Things to Buy Before Your Trip to Disneyland
If you have YOUNG kids: Please, please pack a light rain jacket. If you don't have one, you can get them on Amazon for $9-12. I've listed ponchos below, which are useful…but if you have toddlers or babies who have never worn a poncho before, this could be a deal-breaker for your trip. Even if you think it will be sunny the whole time, pack one anyway. EVERY single time we have taken a Disney trip (the last 4 years), there has always been a rainy day (I know, we have the worst luck). And if you are going to Disney WORLD, it POURS when it rains. My sister-in-law ended up so desperate when her 2-year old wouldn't stop crying over the poncho, that she bought a $40 rain coat at Disney. Don't let this be you. This is a great one for summer because it's super lightweight, making it easy to pack around and it folds up into a teeny tiny pouch.
Thermos Kids Water Bottles. This is for sure a top item on my list of things to buy before your trip to Disneyland! The Disneyland food service stands give ice water for free, so the moment you get one, pour it into your kid's thermos water bottle and it will keep it cold for them!
Trading Pins. These are awesome to take with you because they are a great price and you can trade with the characters for better ones.
Lanyards with Detachable Coin Purse. These are AWESOME in so many ways! Kids can keep their pins for pin trading on the straps, and they can keep their fast passes and tickets in the coin purse. If they earned Disney Bucks prior to the trip, this is a good safe spot to keep them, and if they like to do the souvenir pennies (cheap souvenir at the park), then they can keep those in there too. No worries about all this stuff falling out of their pockets.
Earmuffs. If you plan to attend shows, the parades, World of Color, or Fantasmic and you have a baby or small children that are sensitive to noise, you will be wishing you had a pair of these! We had a 4-month old baby this time around that WOULD have slept soundly through the shows and parades and fireworks if it weren't for the noise. I was kicking myself that we left our pair at home! We use ours all the time for sporting events, rodeos and 4th of July, but I didn't even think about Disneyland until we were there!
Ponchos. Find some cheap ponchos and take them along just in case. I knew it wasn't going to rain when we were there so I didn't bother, but something I didn't think about was the World of Color show. We ended up in the splash zone and were jealous of the family wearing their ponchos. Even in the summertime Anaheim can get pretty cold at night.
Even if it never rains, you might want to use them for water rides!
Beach Trip? We always like to split up our days at Disneyland with at least one beach trip. Here are a couple simple things we have loved: this aqua water bouncer frog skips across the water and doesn't take up space in the suitcase. My kids have played with this thing for over an hour on multiple beach trips. And…if you have a toddler, it's a wise idea to pack a small toddler pool since the waves might be too rough for them. We've taken this specific pool on multiple trips because it doesn't take much space in the luggage. Here's a pic from a recent Florida trip:
If you're doing the beach with a baby, these insulated baby bottles are pretty cool because they will either leave milk at whatever temperature you put it in (so milk doesn't go bad), or you can also keep liquids cold.
Snacks. Even if you plan on eating in the park, all that walking will make you hungry! Pack some snacks for in between meals. See my post On-the-Go Snacks for some great ideas.
Power Banks. This one is HUGE and is one of my top suggested things to buy before your trip to Disneyland. You often use more battery power than usual when at theme parks because you are using wait time apps, or texting/calling each other when you split up. One of the most frustrating parts of our trip was having one member of our group run out of cell phone battery and NOT BE ABLE TO FIND THEM. Trust me, you do not want to deal with that nightmare. Take at least one power bank to recharge cell phones. I didn't think we would need one the first time we went because we planned on staying together, but it turns out there are always reasons the group gets separated for a small amount of time (having a runner for fast passes, saving spot for parades, etc.).
Glow Sticks. These will save you when your kids start begging for all the fun light up toys. Go to your local dollar store and get some fun light sticks or get a fun glow stick party kit. You can also get blinking rings, and finger beams for really cheap.
Disposable Bibs. If you have kids that are still young enough to spill and drip food, you will love yourself for bringing some disposable bibs. You really don't want to carry around extra outfits and soiled bibs when disposable ones are very cheap. I'm also bringing along some of those scented diaper sacks for diapers so that if we have to change a diaper and aren't near a restroom, we won't stink up the diaper bag.
Small Toys or Activities. Chances are your kids will get bored while standing in lines or waiting at restaurants. Get a bunch of fun little toys and activities at the dollar store ahead of time (ones you don't mind throwing away). Dover activity booklets are also good for this because they are small and there are a good variety of them. UPDATE: On our recent Disney trip, we took these Disneyland Activity books that double as autograph books. There are lots of puzzles and activities themed to the rides and characters at Disneyland which makes them even more fun. If you're planning on getting an autograph book anyway, I would get these so that your kids also have some fun Disney-related activities to do while they wait in line. You can also find a lot of fun stuff on this deal site.
Autograph Books. These are going to be more expensive in the park. You can buy a typical autograph book ahead of time (you can usually find them cheaper at your hotel) **OR** the cutest idea that I read on a forum was a family that bought a Disney Storybook and had the characters sign on their particular picture in the storybook. Then when you go home and read the stories, your children will see the signatures and remember their trip. I LOVE THIS IDEA! OR… another really fun thing is to get one of these Minnie or Mickey Mouse Travel pillows that come with a free autograph book!
Go Walks. Right before our last trip both my sister-in-law and my mother-in-law recommended I get a pair of Skechers Go Walk shoes with memory foam for walking around the park! I followed their advice and thought it was funny how many other people were wearing them! Definitely take some comfortable shoes! Unfortunately I bought mine the day before I left so I didn't have time to order on Amazon. Mine were $60, and the same show was $38 on Amazon.
Sunscreen. You'll end up spending so much more if you forget and have to buy it at your hotel!
Souvenirs. I have heard of a lot of parents that buy Disney souvenirs ahead of time (for much cheaper), and find ways to surprise their kids with them each day (under their pillow or otherwise). Since our girls are young, we aren't even going to worry about souvenirs, but I did fall for these Mickey Mouse hair clips that I found online (update: Amazon prices fluctuate. If these are showing more than like $4 don't waste your money)!
T-shirts. You can find these in the stores near Disneyland and they will be MUCH cheaper than in the park itself! If you are still several weeks away from your trip, check Zulily! They are always featuring fun Disney-themed clothing, towels and accessories at a good discount (Also fun stuff for road trips). I bought my girls princess PJ's on Zulily, and then left them on their pillow after our first night at Disney (with a cute little letter from the Mickey himself).
Princess Dresses. Again, if you think the cuteness is going to overwhelm you and convince you that your daughter HAS to have one, you really should just buy one online ahead of time. You will mostly likely save 50-75%. You might also check Jane.com for some cute Character-themed stuff!
Gift Cards. This isn't necessary, but if your kids have "earned" Disney bucks ahead of time, it might save you a lot of begging if you put their amount earned on a Disney gift card. Once the amount is used, their money is gone. I like to also put our food budget onto a Disney Gift Card so that we can enjoy some fun treats/meals in the park, but my kids know that once the gift card has been used, it has been used!
Kids Headphones. If you have younger kids, they won't be able to keep those small headphones in their ears like adults can. Make sure to get them the kids headphones that cover the whole ear. Also, if you are flying, get a headphone splitter so that two kids can share the same earphone jack (this works great so that you only have to buy ONE movie and they can watch off the same screen).
Brita Water Bottle. You can get unlimited free ice water in the park, but if you aren't a big fan of tap water, just pour it into a Brita water bottle and it will filter as you drink!
Don't Lose Your Children. Get what you need to make sure you don't lose your children! You know your kids best. This might mean a toddler leash, this might mean color coordinating your family's outfits for easy spotting, or this might mean ID wristbands or safety tattoos.
Frog Toggs. We didn't discover these until our most recent trip, but they are genius and help keep everyone dry and cool!
Download some movies from Amazon Video onto your phone or tablet. Once they are in your account, you can use the Amazon Video app to play or download your movies (if you download them, then you don't have to have WiFi to be able to watch them). If you're wanting to buy movies anyway, you don't need a Prime account to do so, but if you want to watch some movies for free on your trip, now is a good time to use the 30-day free trial. If you are DRIVING, this is also the perfect time to Try Audible and Get Two Free Audiobooks
for the drive!
Road Trip Adventure in a Box. If you are driving, this is a super fun way to build up excitement along the way!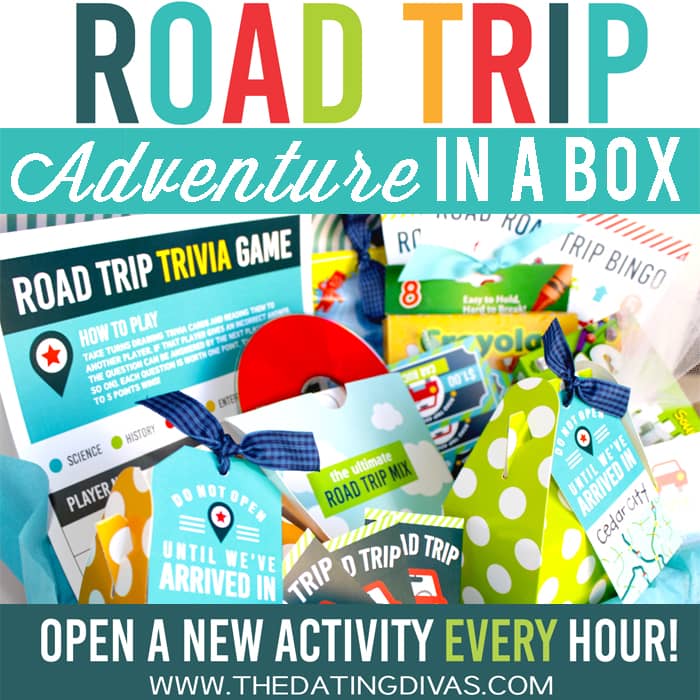 Would you add anything to the List?
If you're doing a Disney trip, and your doing 3 days or more, I arranged an extra $10 off discount for my readers. Use code MOTHERSNICHE, see my post Disneyland Vacation Planning Tips for more info